Fly fishing in Pagosa Springs is the best experience you will ever have.  Pagosa Springs and the surrounding area offers so many different types of water.  The possibilities are endless. There are back country creeks and rivers, public and private lakes and high elevation streams that would take a lifetime to explore.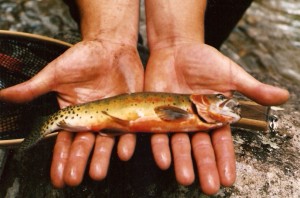 Pagosa Springs boasts one of the best trout rivers in the nation, The San Juan River.  The San Juan meanders through Pagosa and heads south to Lake Navajo.  There you will find the Gold Medal trout fishing tail-waters of the "Juan".  It is bar none one of the premier places to visit if you are a trout fisherman.
The waters listed here are exceptional fisheries so get ready for an adventure and check them out in your lifetime.
SAN JUAN RIVER IN NEW MEXICO
This section of the San Juan is known as the Quality Water section of The San Juan River located below Navajo Reservoir.  With a fish population of 15,000+ fish per mile, and consistent conditions The Quality Waters of the San Juan is noted as a blue Ribbon Trout stream.  HIGH COUNTRY FISHING CHARTERS OFFERS FLOAT TRIPS AND WADE TRIPS HERE call (970-946-3584)
THE SAN JUAN RIVER IN COLORADO
Located in Pagosa Springs the Upper San Juan is a fantastic freestone that offers great public and private fishing.  Float the short window in the Spring or wet wade through town in the Summer or hire a guide and get on some private water and hold on…tighten drag.  HIGH COUNTRY FISHING CHARTERS OFFERS WADE TRIPS HERE call (970-946-3584)
THE PIEDRA
The Piedra River affords some of the most breathtaking scenery of any freestone stream you will find. This little known gem has approximately twelve miles of catch and release, flies and lures only water along the Piedra trail. This stretch can be both challenging and rewarding, with the possibility of landing a trophy-size wild Brown.  HIGH COUNTRY FISHING CHARTERS OFFERS WADE TRIPS HERE call (970-946-3584)
WILLIAMS CREEK
This tributary of the Piedra River flows into and out of Williams Creek Reservoir. Easy access below the dam, and several Forest Service campgrounds along Piedra Road ( FR 636). You may just tangle with a Brown that will rock your world.